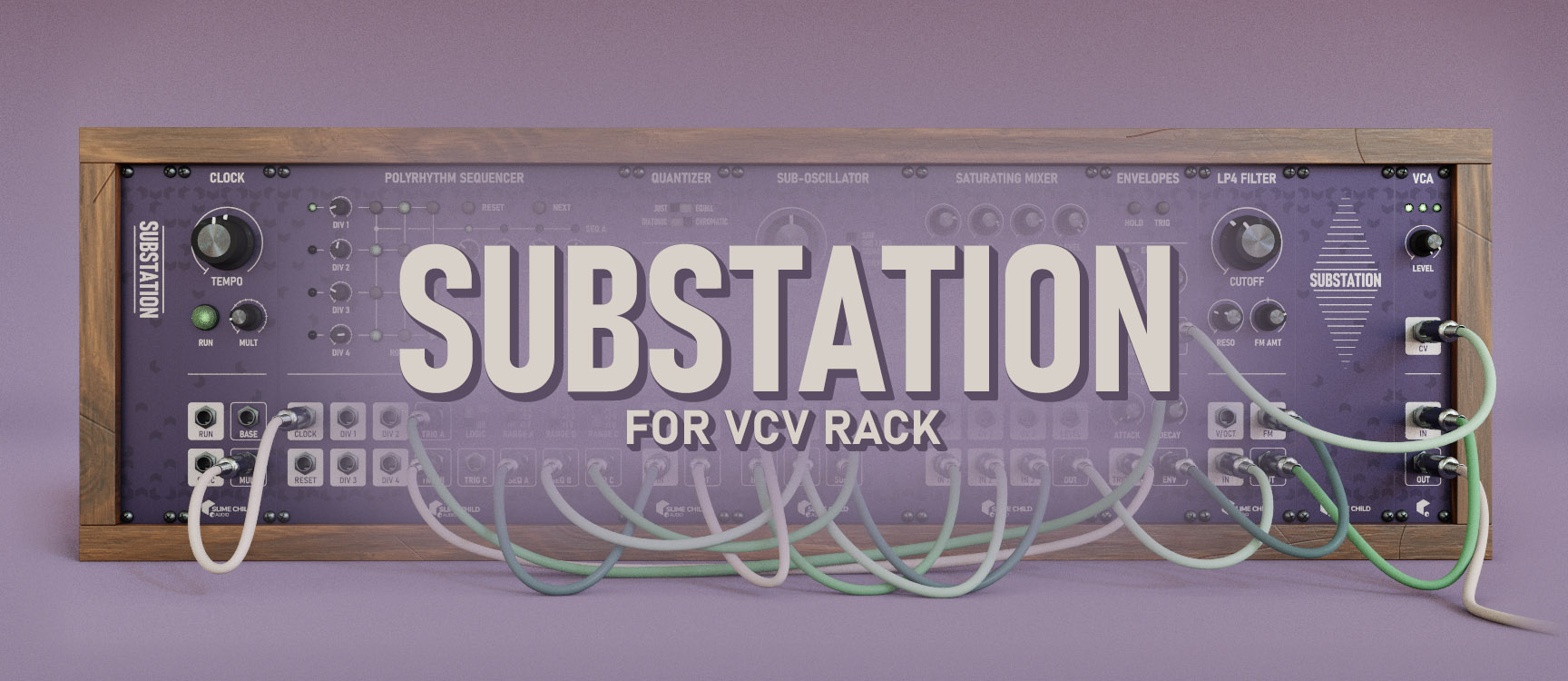 Hello Substation users!
I can't believe it's only been a month since Substation released. So much has happened: Substation was featured on Sonic State and Synthtopia, Jakub Ciupiński published an incredible YouTube review and tutorial, way way way more copies were sold than I ever expected, people have sent in some truly amazing music they've made using Substation, I was asked to give a university lecture about plugin development, I received a bunch of job offers, and I finally found full-time work after nearly two years of searching.
Truly, I am grateful to everyone who helped make Substation a reality, with feedback, support, encouragement, and reviews. It's been absolutely wonderful to be able to listen to all the music people have made with this plugin, and read the kind words they have written about it. I first used VCV Rack only a week before development started on Substation; I never expected that my initial thought of "hey, this looks cool, I should try making a module" would have led to such a successful product.
With that in mind, Slime Child Audio is proud to announce the first update to Substation…
Substation v1.2.1
New Module: Filter+
The LP4 Filter got an exciting upgrade: an expander module that allows CV control of filter resonance, and adds three additional filter types: 2-pole lowpass, 4-pole bandpass, and 2-pole bandpass. Just place a Filter+ module directly next to an LP4 Filter and they will automatically connect. There's also a new option in LP4 Filter's context menu that automatically places an expander in the rack.
See the manual entry for more info on this new module.
Improved Sequencing
Some new sequence manipulation options were added to PolyRhythm Sequencer's context menu:
Sequencer and divider states can now be saved and restored. If you've got a rhythm and melody you really like, save it using the context menu. That way, you can explore new patterns and easily jump back to it. There's also an option that makes resets restore the saved state instead of clearing it.
The PolyRhythm Sequencer now supports the portable sequence format, making it compatible with other sequencers by Entrian, Impromptu Modular, SquinkyLabs, and more. Use the context menu to copy and paste sequencers between any compatible modules, or between multiple instances of PolySeq.
Check out all the details in the manual entry.
VCA Redesign
The VCA got a re-design that makes it fit better with the rest of the modules. Keep an eye out for it!
Keyboard Shortcut Support
The Clock module now supports starting and stopping using the spacebar. You can use this to quickly start and stop clocks without having to hunt for the "run" button. Future updates will add more keyboard shortcuts.
General Improvements
All modules received various small bugfixes, UI polishes, and performance improvements. CPU usage is now fractionally lower across the board!
What's Next?
Keep an eye out for the following in the near future:
We'll be adding some sample patches to the manual to help and inspire new and advanced users alike. If you have a patch you're proud of and would like to see it in the manual, feel free to send it to us.
We've received some truly incredible works of music and sound design that people have made using Substation. These will be going up on the Slime Child Audio website soon!
A new plugin is in the works: a super flexible reverb toolkit featuring a granular pitch shift / reverb / delay designer, a customizable diffusion network, and a hybrid compressor / envelope processor.
Substation v1.3.0 is already in development, which will add sequencer expanders, customizable sequence lengths, more polyphony, an improved oscillator, and faster load times.
Various parts of Substation will be open-sourced before the full plugin, including the custom cable color script, the improved param context menus, etc.
A few more plugins are in the design stage: a hybrid waveshaping synth toolkit, algorithmic composition modules, and a few more secret plugins.
We'll be releasing

The Slime Report

, a summary of Substation sales and development costs, in 5-11 months.
VST/AU ports are in the works, but not promises!
As always, please send us all the amazing things you are making with Substation, and let us know if you'd like them featured on the website!
Looking forward to many more updates to come,
Coriander V. Pines
Slime Child Audio