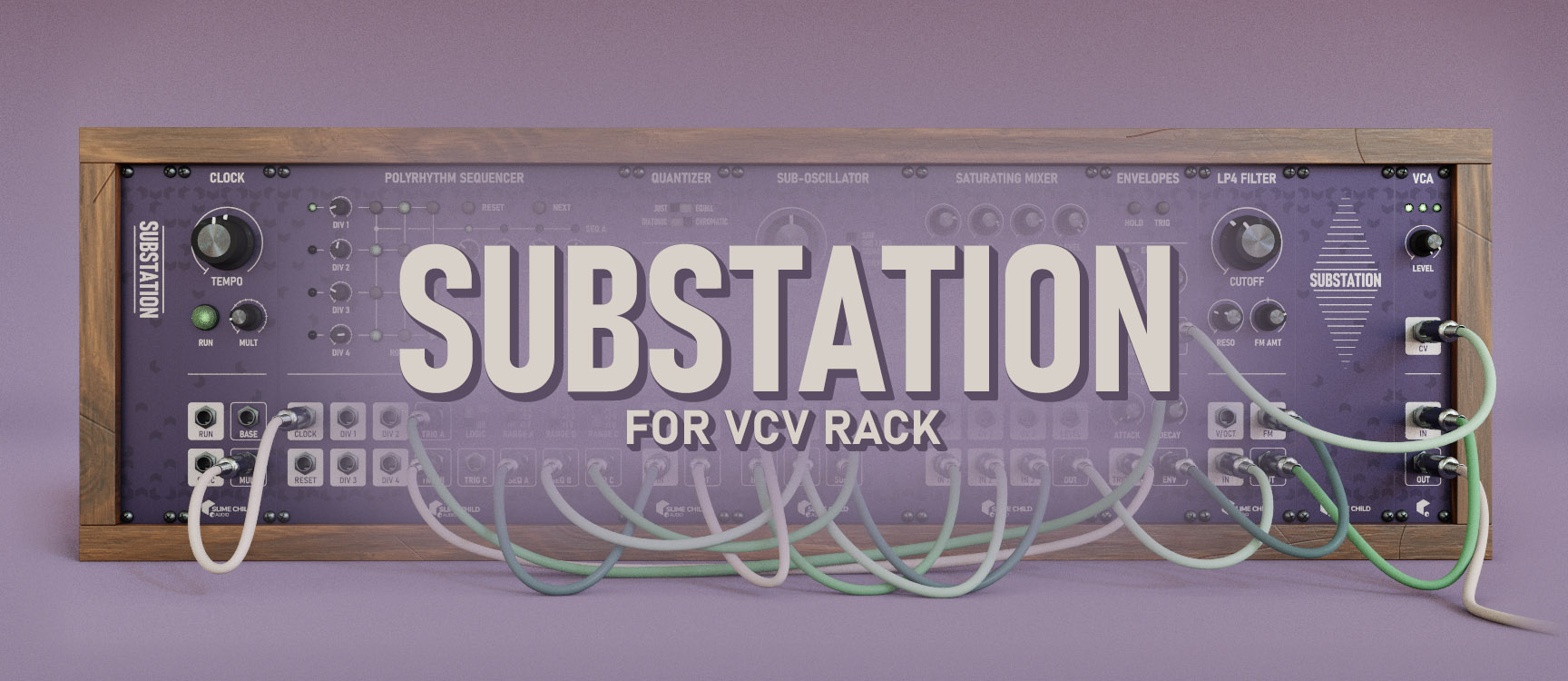 Sacramento, CA, USA – Feb 28, 2021 – Slime Child Audio is proud to announce the first free update to Substation for VCV Rack, v1.2.1. This update brings numerous improvements, as well as a brand-new module.
The update can be obtained from within VCV Rack or downloaded from itch.io.
Substation v1.2.1
New Module: Filter+
The LP4 Filter got an exciting upgrade: an expander module that allows CV control of filter resonance, and adds three additional filter types: 2-pole lowpass, 4-pole bandpass, and 2-pole bandpass. Just place a Filter+ module directly next to an LP4 Filter and they will automatically connect. There's also a new option in LP4 Filter's context menu that automatically places an expander in the rack.
See the manual entry for more info on this new module.
Improved Sequencing
Some new sequence manipulation options were added to PolyRhythm Sequencer's context menu:
Sequencer and divider states can now be saved and restored. If you've got a rhythm and melody you really like, save it using the context menu. That way, you can explore new patterns and easily jump back to it. There's also an option that makes resets restore the saved state instead of clearing it.
The PolyRhythm Sequencer now supports the portable sequence format, making it compatible with other sequencers by Entrian, Impromptu Modular, SquinkyLabs, and more. Use the context menu to copy and paste sequencers between any compatible modules, or between multiple instances of PolySeq.
Check out all the details in the manual entry.
VCA Redesign
The VCA got a re-design that makes it fit better with the rest of the modules. Keep an eye out for it!
Keyboard Shortcut Support
The Clock module now supports starting and stopping using the spacebar. You can use this to quickly start and stop clocks without having to hunt for the "run" button. Future updates will add more keyboard shortcuts.
General Improvements
All modules received various small bugfixes, UI polishes, and performance improvements. CPU usage is now fractionally lower across the board!
Price and Availability
Substation for VCV Rack is available immediately for purchase at https://slimechildaudio.com/substation for $15 USD.
About Slime Child Audio
Slime Child Audio is a new audio tools company creating high-quality, finely-engineered synthesizers and audio effects. We strive to build polished, unique, and inventive tools that help musicians and sound designers do their best work. Slime Child Audio uses state-of-the-art DSP and circuit design techniques along with highly-optimized code and carefully-built user interfaces to ensure our products sound as incredible as possible at a low price.
Slime Child Audio is committed to supporting musicians, sound designers, and aspiring plugin creators no matter their budget. All of our products are sold at prices below industry standard, and we provide additional community support discounts when requested. We also pledge to release free, open source versions of our products within a year of their release.
Press Inquiries: Coriander V. Pines, contact [at] slime child audio [dot] com
News Details
Date: Feb 28, 2021
Type: Press Release
Products: Substation for VCV Rack
Keywords: subharmonic, eurorack, vcv rack, polyrhythm, synthesizer, sequencer, effect, filter, update