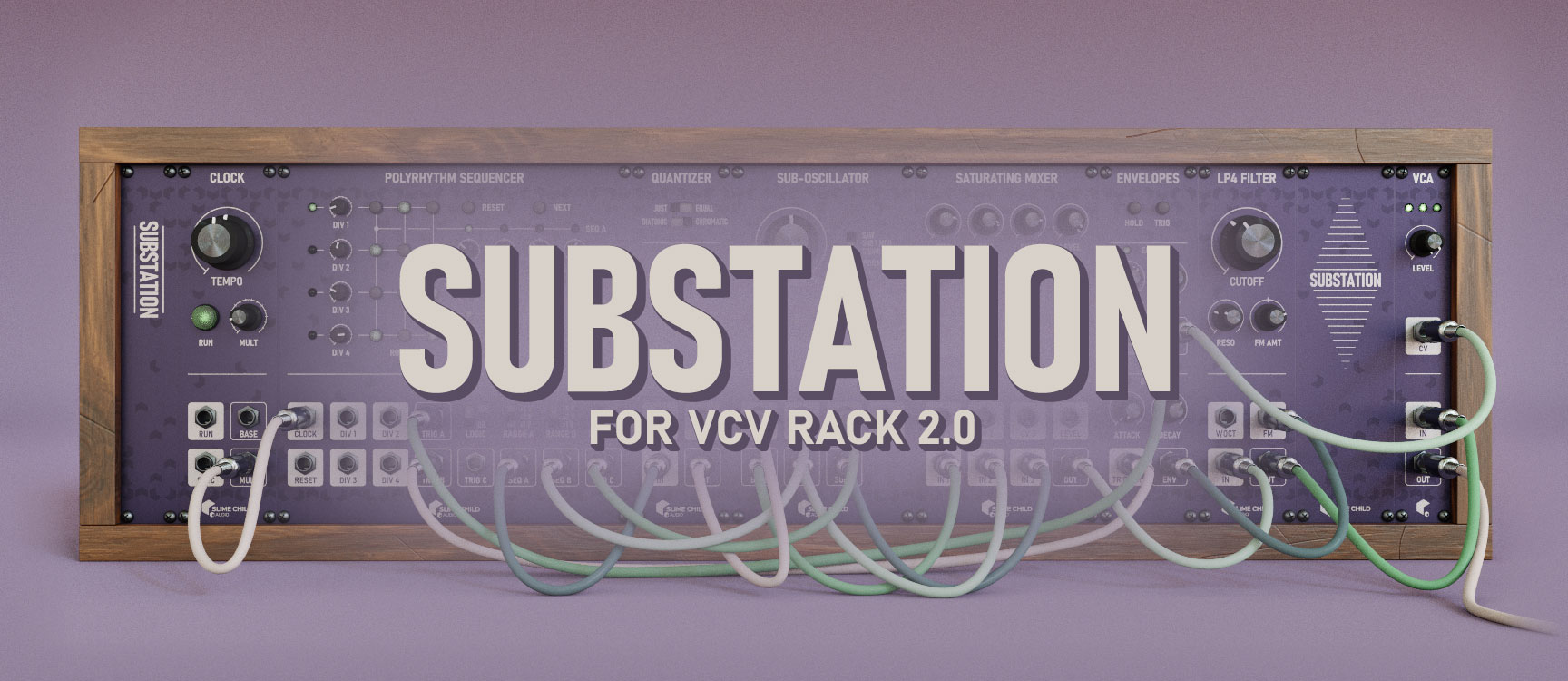 Seattle, WA, USA – Nov 27, 2021 – Slime Child Audio is proud to announce a new version of Substation for VCV Rack, v2.2.3. This update adds support for the newly-release VCV Rack 2.0, along with some new features commonly requested by users.
The update can be obtained from within VCV Rack or downloaded from itch.io.
Substation v2.2.3
Rack 2.0 Compatibility
This update adds support for the hotly-anticipated VCV Rack 2.0, including support for DAW integration with Rack Pro. All future updates to Substation will require Rack 2.0, and will not support earlier versions of Rack. However, we will continue to make Substation v1.2.1 available for any users that wish to remain on Rack 1.0.
New Quantizer Scales
By popular demand, the Quantizer module now has the option to use either Major or Natural Minor scales.
Relative Sub-Oscillator Detune
You can now configure the Sub-Oscillator detune knob to use either Hz or cents. When using cents mode, the exact detune amount is dependent on the absolute frequency of each oscillator.
Filter Quality Settings
LP4 Filter now provides the option to configure the filter quality. While the difference between quality settings is inaudible in most cases, a higher level can help reduce distortion when self-modulating resonance and cutoff.
General Improvements
All modules received various small bugfixes, UI polishes, and performance improvements. Install size, RAM, and CPU usage have been further reduced since the previous version!
Price and Availability
Substation for VCV Rack v2.2.3 is free for existing customers. New customers can purchase it at https://slimechildaudio.com/substation for $15 USD.
About Slime Child Audio
Slime Child Audio is a new audio tools company creating high-quality, finely-engineered synthesizers and audio effects. We strive to build polished, unique, and inventive tools that help musicians and sound designers do their best work. Slime Child Audio uses state-of-the-art DSP and circuit design techniques along with highly-optimized code and carefully-built user interfaces to ensure our products sound as incredible as possible at a low price.
Slime Child Audio is committed to supporting musicians, sound designers, and aspiring plugin creators no matter their budget. All of our products are sold at prices below industry standard, and we provide additional community support discounts when requested. We also pledge to release free, open source versions of our products within a year of their release.
Press Inquiries: Coriander V. Pines, contact [at] slime child audio [dot] com
News Details
Date: Nov 30, 2021
Type: Press Release
Products: Substation for VCV Rack
Keywords: subharmonic, eurorack, vcv rack, polyrhythm, synthesizer, sequencer, effect, filter, update